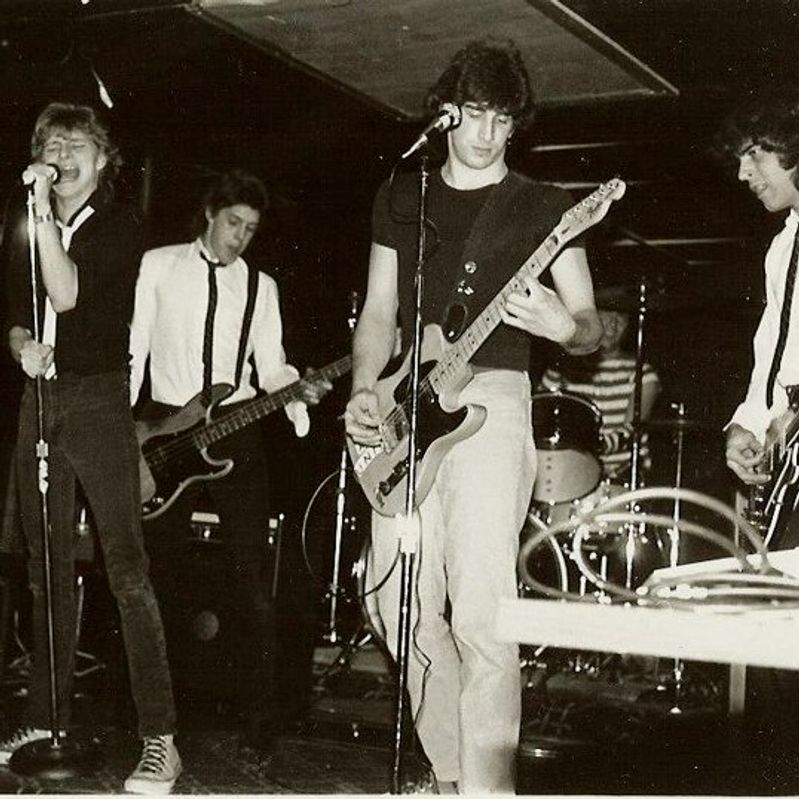 The Morons
Albany Punk 1979-1982
BREAKING NEWS! The Morons archival release coming soon on Rum Bar Records starting with a FREE Download of the long out of print Suburbanite single. GET IT HERE!
From a New Years Eve party 1979, to their final gig at the legendary Chateau Lounge, Albany NY based punk rock group the Morons wreaked havoc across the Capital Region during their day. Notorious for their rambunctious stage show and satirical social commentary, the self-proclaimed "Only Band That NEVER Mattered", offered up "Modern Music For A Not So Intelligent World", powered by a fast punk/pop beat. The Times Union, in 1981, called them "a snottier version of the New York Dolls", while Metroland Magazine hailed the first single saying: "it shows an affinity to the basic drive of British punk circa 1977.. 'Suburbanite' is a nifty little rocker, with tongue-in-cheek lyrics that set it apart from the pack.. the bands playing is top-notch and the arrangement, which even features a Stones style sax break at the end, is marvelous". Years later the same magazine remembered them as "desperate and flashy".
Starting as a party joke, the Morons began life "Chewing on Tin Foil", and staked their claim with such songs as: "John T Law", "I Got Television", "Here Come The Cats with the Jetpacks!", "BOY" and "Ballad of a Moron".
They started playing house parties, showcase gigs, and dives throughout the area. From opening slots for the Cramps, the Stranglers, the Motels, Gary Myrick & the Figures, SVT, Fast Fontaine, Classix Nouveaux and others, at J.B. Scotts, to one night stands at early Capital scene clubs like 288 Lark, the Chateau Lounge, Hullabaloo, Blue Angel, Towne Tavern and Bogarts. In 1981 they did a "Summer Party Tour" that had them playing someone's living room, pool-side, garage, yard or back-porch, every Friday and Saturday for eight straight weekends, all for a case of Miller Beer.
The Morons closed the show in front of thousands at the very first ever Lark Fest, as the "Egg Cracked" behind them. They did three sets of all original music at such venues as Jack's Oyster House on News Year Eve 81/82, and Columbia High School (the band's homecoming) a show that has been saved for prosperity on a fan-club only disc.
They had one "official" single, "Suburbanite"/"Changing Days" and had a track on the "Hudson Rocks" compilation ("Gimme"), but there are other studio takes, commercials, mucho live shows and oddities in the vaults "Suburbanite" was issued on Mary Miller's Lark Beat label and was played in heavy rotation, by then super-progressive radio station, WQBK. It also received scattered college airplay around the country. Most notably #9 at John Hopkins University end of year most requested songs list and at KUSF by industry maverick Howie Klein. For some reason it sold well in Houston TX!
The original members were; JB Homicide on bass, TL Stone on vocals and KD Donovan on guitar, but they were soon joined by Billy "the M" on lead guitar. After going through a series of drummers, most notably Steve "Rocksteady" Candlen, the Morons recruited ex-Real Danger skinsman Bill " Stix" Rella (who also guests on sax on the single Suburbanite under the alias Max "the Sax" Media). This with the addition of Cherry on pop organ and electric piano added a revved up new-wave speed to the hard rocking Moron sound. This was the lineup for all of their studio recordings, and live, up until their end in March of 1982.
Lead singer TL Stone (Tim Livingston) continued in music with a 1993 album Ghostrunner "Beneath the Apocalyptic Rain" and with four albums and many live dates with his band the Last Conspirators 2005 - present.
"Suburbanite is� a dope-smoking, fist-fighting teen-rebel anthem..." - Nippertown 2012